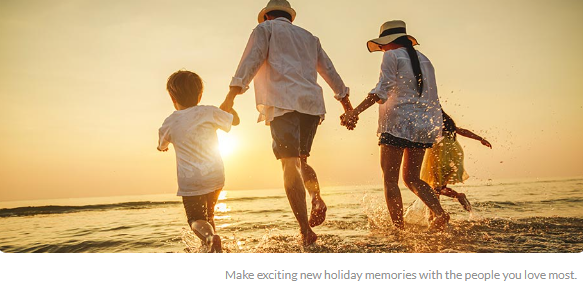 Traveling at holiday time isn't just about skipping out on all the cooking and cleaning associated with the season — it's a way to make exciting new holiday memories with the people you love most. We're talking about taking the family to a foreign destination to either relax in paradise or explore local holiday traditions. It's the ultimate gift of travel and here's why numerous families are choosing to give it.
Trading Snow for Sun
In many parts of the world, the holiday season arrives with cold temps and piles of snow. When you take the family to an all-inclusive resort in the Caribbean or Mexico, you can forget about scraping ice off your windshield and jacking up your thermostat. Instead, you'll be enjoying powder-soft sands, the gentle lapping of waves and the rustle of palms tickled by ocean breezes.
Eat More, Clean Less
There are many differences between holiday dinner at home and holiday dinner away. One involves toiling away for hours in the kitchen to cook up everyone's favorite foods, followed closely by a never-ending parade of dirty dishes to clean. The other involves talented chefs whipping up endless courses, after which you simply say thank you and walk away to enjoy your evening with your family.
Give Memories Rather Than Things
It's easy to get wrapped up in the hype of gift-giving that comes with the holiday season. But think long-term. When your children are older, what will they appreciate more — that Lego set they haven't touched in over a decade or memories of a family vacation exploring a new destination together? Holiday travel isn't just a treat for the week, it's a gift that only grows in value with the years to come.
Celebrate at Sea
The idea of a family vacation during the holidays is not confined to land-based journeys. Cruise lines offer many themed voyages during the holidays. From decked-out ships with festive decorations to special seasonal menus meticulously thought out, cruising during the holidays can be especially magical.
Contact Magical Castle Vacations at 607-330-1531 or contact us through our website at www.MagicalCastleVacations.com to plan your holiday vacation today!