Curious about the new MagicBand+?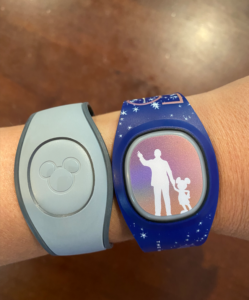 Here is the first part of my review of the new band. Stay tuned for the second part after I travel to Walt Disney World, August 25-28, and use the new technology.
Ordering was very similar to the way you ordered Magic Bands previously. Log into either a browser on your phone or the computer to select the design of choice. You can not order on the My Disney Experience app. Shipping was past the 10 day estimated window. I think that was due to the fact that I ordered on the first day available and they were shipping due to inventory and time of travel. Once it shipped tracking was sent via email and was able to be done using the number and redirected through the app.
As always the MagicBand+ came in a discreet all white box. It contained no Disney markings, allowing the element of surprise to remain intact. It still has the same great display on the inside.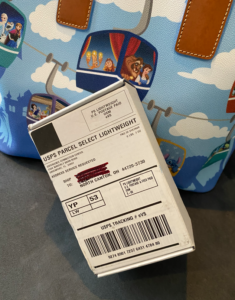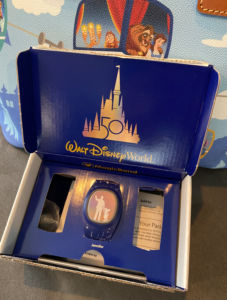 Each band is personalized and comes with its own charger. The new bands still have the sizing ability for smaller wrists and children. In case you were unaware, the split half way down the long side of the band allows for you to tear off the excess and make the band smaller.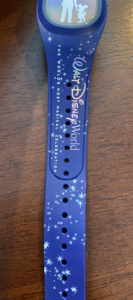 Initial opinion and thoughts………
It is slightly larger than the previous design. Mostly it is thicker to allow for charging and the lights for fireworks and character statue interactions. More to come in the next review regarding what this means for all day wear and comfort.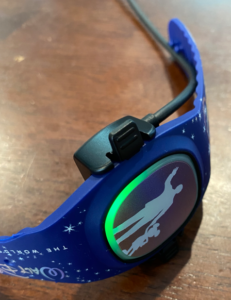 I was also surprised that it had no instructions in the box. NONE of the QR codes on the packaging link to instructions. They are proprietary and patent information.
Half lost, yes your agents need help sometimes too. I proceeded to open the app. Voila, the app knew it had been delivered and popped up with my next steps. This was very easy and was user friendly.
Once you turn the band on using the button on the underside, you are instructed to pair it to your app using Bluetooth. It will also walk you through choosing your preferences, such as light color combo, vibrations and alerts. Charging is simple. It comes with a usb charger. You snap it onto the back of the band and plug it into any charging
brick.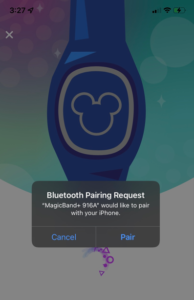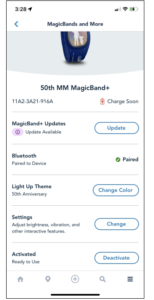 The band will then change from red flashing to yellow/orange flashing to green when charging is complete.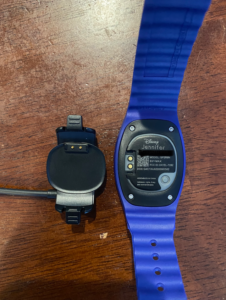 Stay tuned for my review of usage and wear after travel!!!
Read part 2 of this article.
Ready to plan an amazing vacation?
Contact Jen Kintz at [email protected] to get started!