Welcome back for the second blog, USING the new Magic Band+.
If you haven't read part 1, go to part 1 now.
Magic Band functions: Open room door, link park tickets and use for park entry, scan for room charges like food and souvenirs, scan to link memory maker and photo pass, as well as scan into Genie+.
Magic Band+ functions: all the same as above. Includes lights and vibration near 50th anniversary gold statues, play "Batuu Bounty Hunters" in Galaxy Edge Hollywood Studios, and lights up during fireworks.
We arrived at the Yacht Club Resort Thursday evening around 8:30pm. I had charged my Magic Band+ on Tuesday night. I assumed that would be enough. I put it on and tested it on the door. NOTHING. We then proceeded to head down to the Ale and Compass Lounge for a drink to take back to enjoy on our balcony. It did work for my drink purchase. When I entered the room returning from the bar, I tried again, still not working. At this point I realized that since it worked for the purchase and not the door, let's try charging. After charging overnight, it then worked to open the door. Small things like a charge or resetting your pin can help fix issues. If not a Disney Cast Member is always available to assist at the front desk. From that point forward as long as I charged it overnight it did last me throughout the next day.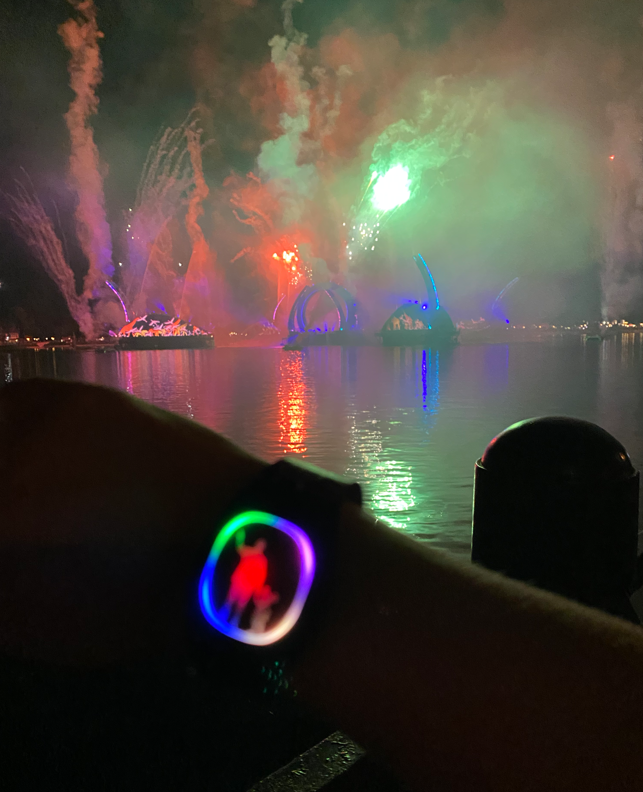 In the parks: Everything went as normal. Scanning into the park, purchasing my morning coffee, purchasing lunch as well as the much needed set of Mickey Ears and scanning rides for Genie+ all functioned normally!

50th Statues…….. There are 50 gold statues throughout all 4 parks with various Disney characters. Some are more obvious, some are harder to find. When you are well over 10-12 feet away from a statue, your wrist will vibrate. Sadly you are not close enough to enjoy the music, melody or voice of the character. It then takes several minutes for your RFID to reset. At that point you could have stood there and listened while someone else's Magic Band+ sets it off. The crowds would gather around each statue with people waving Magic Band+ trying to activate the sounds. I found I spent a good part of my time with my wrist vibrating and me stopping mid stride and spinning in circles trying to figure out why my band went off. While this can be helpful in finding a statue you might be missing, it is more of a distraction and traffic hindrance.
Fireworks……..Fun, beautiful and amazing technology to synchronize color and timing with your band. However, for some, this is your one and only trip to see the 50th fireworks Enchantment or Epcot HarmonioUS, having your attention pulled from the show to your band might take away from the amazing show in front of you. I would also find that while standing among a crowd people would hold their wrists up to watch both at the same time. This can be a distraction much like a light on a phone camera while recording.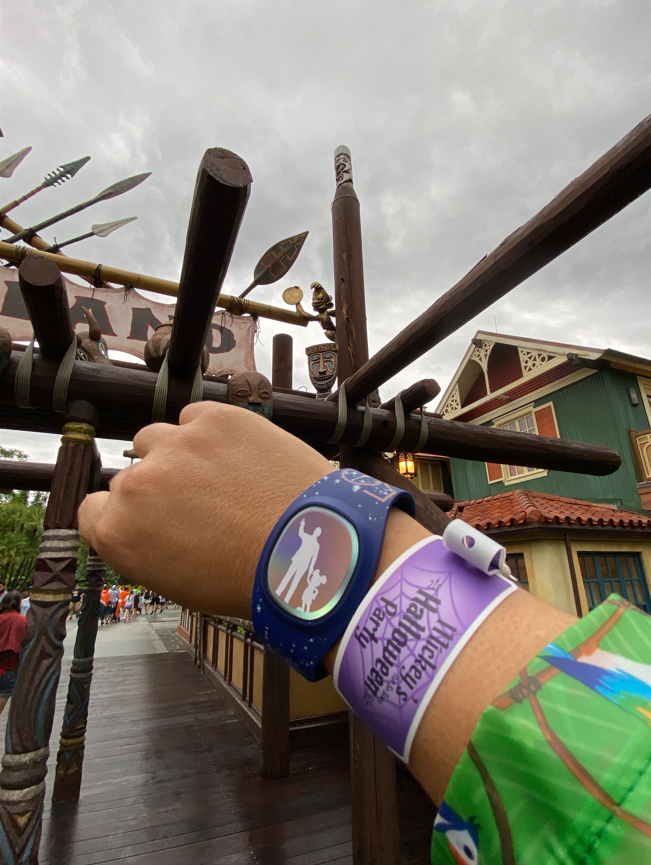 I was worried about its size and wearability. It does end up very similar to the previous Magic Band. I found it to be just as comfortable.
Battery and charging. Again, if I charged it the previous night it would last me all the next day. I guess if you have an Apple watch or any other rechargeable watch device, you are used to charging daily. I am used to charging a device, but found that having one more device and one more cable as well as having to find a place to plug it in became complicated. I could see it being an even bigger problem if you are a family of 4-6. That's 4-6 more usb devices you need to find a place to plug in. There is not that much space available to charge in the resort rooms on top of being able to charge your phones and other devices.
I did not get a chance to use the new device as a "Batuu Bounty Hunter" in Hollywood Studios.
All in all, it is a fun addition to have. Both work the same and have the same functionality. You will be able to get into your room, link your park tickets and enter the park, charge back to your "room" for food and souvenirs, and scan for your Lighting Lanes with Genie+. In my opinion the additional distraction is not worth the additional money. There is already much to see and do at Disney. Adding a few more flashing lights and vibrations for additional money felt like it took away from the experience. I do have the older versions of the Magic Bands that have lasted 4-5+ years. I feel you are going to get more bang for your buck buying an original Magic Band with your design of choice. One of the things I do recommend to clients who want to enjoy the lights of the band and magic of the sounds . Get a few Magic Band+ for the adults or kids and then get the regular for the rest of the family.
Overall, in my opinion, having any Magic Band either plus or original is a HUGE MUST. I enjoy the ability to be able to quickly and efficiently enter the park and pay. Don't forget if you do not want a Magic Band, you can use Magic Mobile that you tie to your Apple Wallet or the Key to the World Card supplied by the front desk. Ask your travel agent for more details on how to link using Magic Mobile.
Ready for your own Disney vacation? Contact Jen Kintz at Je[email protected] or call 330-324-3879 for a personalized consultation.